Today my friend Crystal invited me to a Mary Kay party. It was a lot of fun to be there also I am thinking about selling Mary Kay because some of the products I absolutely adore. Like Satin Hands it's awesome. Now they also have Satin Lips, I tested it out today for the first time and my lips feel amazing. Even my husband felt the difference when I kissed him when I got home. Also their face primer it's pretty good, this it's the second time I try it, and I love the way it smooths into my skin without having that really silicony feeling to it. It's silky but some primers feel like you have plastic in your face. I kind of regret buying the smashbox primer now because it was 40 dollars and it says it suppose to help minimize the dark circles because it's a peachy salmoney color. Well it doesn't help with them at all. yeah it a good primer but its too expensive.
Anyways sorry about my ramble hehehe. I wanted to wear something comfy but cute so I opted for this dress. My husband and I when shopping for a sports jacket yesterday and when I saw this dress I felt for it. I asked him to get it for me and he did.
Sorry I look really tired in this photos, but I truly am tired tonight. I just took this photos maybe and hour ago after getting home. My makeup its all from Mary Kay except for the lipgloss. It's a neutral eye with pink lips. The gloss I have on it's Beige from NYX. (I dont know why it's called beige if it's pink lol)
Pink Dress:
Burlington coat Factory =$ 9.99
Guess belt:
Marshalls= $4.99
Earrings:
Present from Naty.
Owl Necklace and Turquoise shells bracelet:
Kiosk at the Outlets= $2.50 each
Turquoise Ring:
Body Central= $ 2.80
Sandals:
Stole them from my husband. (he got them to shower at the gym.)
White Purse:
From Qatar. Love this purse
I added the turquoise accents to give it a pop of color. I think next time I wear this dress I will try color blocking with lime green and maybe turquoise or blue. What do you guys think?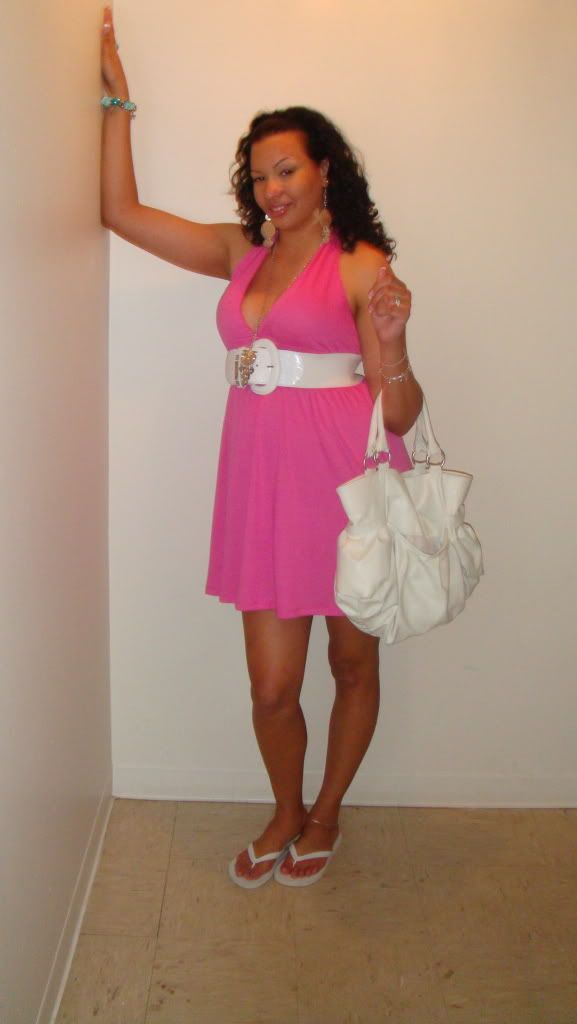 I hope you like this post. Again thank you so much for your support.
Besos
Runnie