The tittle says it all. This look its kind of smokey but it look absolutely gorgeous. I think I might wear it tonight, I might go out for the night. My little get away kind of fell down the cracks, so I'm going to have to make the best of it. Hope you guys like it!
And before anyone tells me Yes I know my eyes look a little sad but I been missing my husband for too long. I can't wait for him to come back home. I miss you sweet Heart! Te Amo!
Pictures and Products use...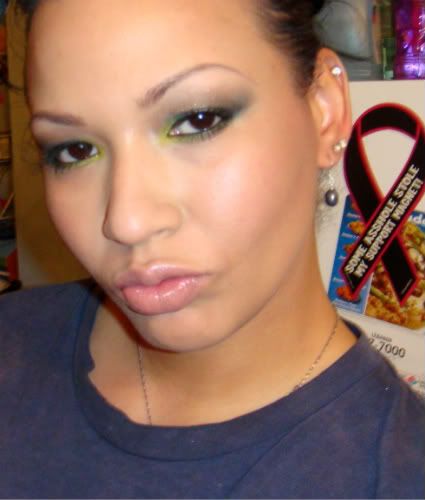 First pic its a kiss for my husband and my Hero.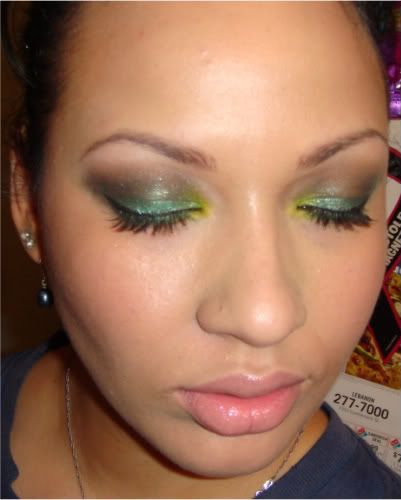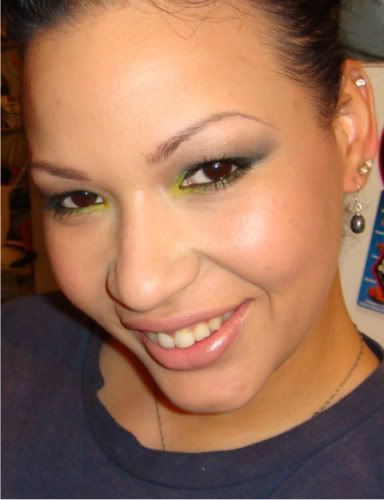 Urban Decay Primer Potion
NYX Jumbo Pencil: Milk
120 Palette from ebay: Green on the lid and yellow on the inner corner.
Wet N Wild: Confort Zone From the right side the crease color on the crease.
Urban Decay: Naked as a transition color and virgin as Highlight
MAC: Reflect Pearl on the lid for a bit of sparkle.
NYC Liquid Liner: Upper lash
Urban Decay 24/7 Liner: Zero On the water line.
Foundation: Maybelline Dreame Smooth Mousse- 240 Natural Beige
Concealor: Hard Candy Glamuflage-Medium
Powder: ELF Complexion Perfection
NYC Blushable Stick: Plaza Pink
Wet N Wild Blush: Heather Silk
Tarte Bronzer: Park Ave Princess
Eos: Lemon Drop
NYX Lip Liner: Mauve
MAC: Viva Glam Gaga 2
MAC Lip Glass: Feeling Dreamy
Eye Brows:
Milani Brow Kit
NYX: Eyebrow Shaper ( Its a clear wax.... Its fabulous I love it)
Hope you guys like this post. I am definitive going to wear this tonight. Because its absolutely gorgeous.
The Disney series will continue tomorrow. We are adding another blogger to collaborate with me and
Mei
so it's going to be very fun!


Besos