I bring you another review. This time is the EOS hand lotion. I have to say I'm loving this lotion. It leaves your hands so smooth and soft. Omg I have never had a lotion that leaves my hands so silky smooth.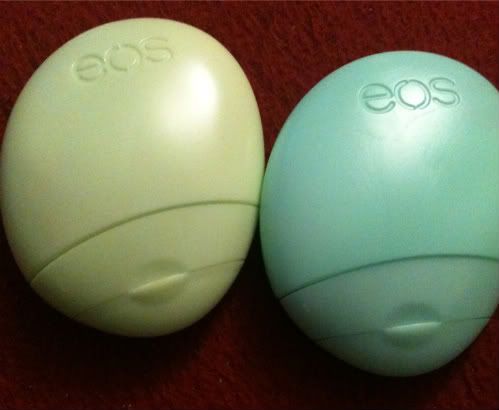 What they say on the website....
Delight your skin.
Leave your skin feeling touchably soft for hours with this natural, fast-absorbing hand lotion.
Designed to fit in your purse, your pocket, or on your desk, eos looks as good as it feels on your skin. Infused with moisturizing shea butter, oat extract, and a generous helping of antioxidants and vitamins C and E, eos hand lotion will leave your skin feeling soft, supple and radiantly healthy long after you apply it.
97% natural formula
For all skin types
Paraben-free
Phthalate-free
Lanolin-free
Dye-free
Dermatologist tested
Hypoallergenic
1.5 fl.oz (44 ml)
Directions.
Smooth on. Touch. Smile.
I have to say this is my favorite lotion. The packaging is super cute, and it smells delicious. I have both of the scents and I love them. I think I like the green one better, it smells like cucumbers lol, but I do love both of them. They are small enough to carry in your purse which I love. It stays on for a very long time. Also your hands keep getting softer and softer as the days go by using this product. My hands feel amazing and because of the cold my hands were getting really dry. Now they are moisterized and smooth. Also I have notice that my cuticules look a lot better since I started using this lotion. Over all I give this product and A+ its just a good lotion for a cheap price.
Where can you find this product...
Walgreens
Ride Aid
CVS
Evolution Of Smooth.
On another note. Did you guys see how beautiful did the moon look today? It was just GORGEOUS!
Hope you like this review and that it was helpful!