Here is the kick off of this mini series of looks for that special day. The day of love and friendship. I'm gonna be spending that day with my daughter due to my husband's deployment but still I'm gonna go to diner with her so we are going to dress up for that day even if it is just the 2 of us. Love you Roque! I wish you were here for this!

Anyways sorry about the long intro to this post. I'm going to post at least 3 different looks for Valentines day. Also I'm trying to get a invited look from one of my friends.

This look its a little bit on the bright side because of the hot pink lips (which I'm loving because it was one of my wedding anniversary gift from the hubby) but it is a pretty simple look. the eyes have color but its not bright. but anyways, here is some pictures and a list of products used.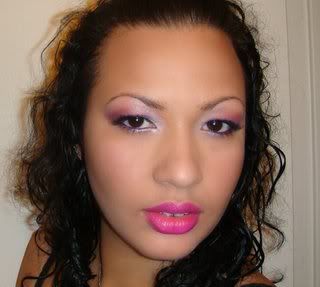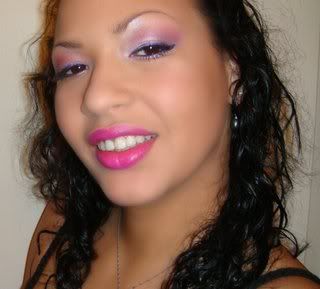 Urban Decay Primer Potion
NYX Jumbo Eye Pencil:Milk
Profusion 98 Color Eyeshadow Palette
Urban Decay: Naked (Transition Color)
Physician's Formula Gel liners for green eyes: Purple
Mascara: Maybelline's Falsies
Lashes:Salon Perfect Lashes 301
Lash Glue: Revlon Precision Lash Adhesive (review coming soon)
Primer: Smashbox Photo Finish Color Correcting- Color Blend
Dream smooth mousse Foundation- 240 Natural Beige
Hard Candy Glamuflage Concealer: Tan Elf Completion Perfection(to set concealer)
Bronzer: Wet n Wild: 742A Goddess Deesse
Blush: NYC Blushable Creme Stick-Mauvin' Town & Palladio Herbal Blush- Cappuccino
Elf HD Powder

Eos-Pomegranate
Raspberry NYX Lipliner: 836 Bloom
Mac Amplified Creme Lipstick: Something New ( Stylishly Yours Collection





I hope you like this look I loved the color combination and it has the valentine's feel to it!
Valentine Pink Besos
Runnie