So this post is another one on how to do the blue. This time is supergirl style. lol
So yesterday I when to lunch with my husband's friend. I do this once in a while. My husband has he's friends keeping an eye on me and the baby, so we usually go out for lunch once in a while. hehe. I decided to dress a lil better than my at home sweats, so I wore jeans. I been needing to finish the How to do the blue? so I decided to wear my blue pumps and that was what I started with and ended up with red, white and blue!

Sorry I didn't feel like putting on my contacts or makeup for the lunch. Please don't be scare
In this outfit I wanted to incorporate two things from different fashion senses. One its a girlishness to it with the cardigan with ruffles and lace. That gives this outfit a really delicate look.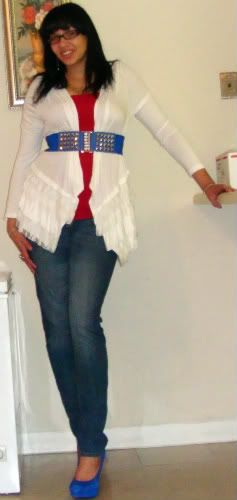 The second that I added was the studded blue belt. The studs gives this outfit an edge, by making it a little tougher against the ruffles and lace. This two things even though they are so different the work so well together. The red shirt just gives it a lil more color because there is a lot of white with the cardigan. The pumps work so well with jeans I just love the way this looks.
Here is a close up picture of my pumps. aren't they pretty.
Hope you like this post
Besos
Runnie