My friends Kurt and Naty got engaged on Wednesday. My husband and I were Kurt's accomplices for this special day in their life. Naty lives in Colombia, she flies in to see Kurt 4 or 5 times a year and Kurt does the same. This time was her turn to fly here and he decided it was time to pop the big question, so he asks for our help. We helped him set up his apartment for the occasion with candles, flower petals and Hershey's kisses. I did a picture of them, where I put a little message for her and my husband connected the computer to the tv so that the picture was really big and she could see it. When they were about an hour from the house Kurt called me so I knew when it was time to drive to his house and lit the candles and put the flower petals all over the path that led to the small table where he had put a the ring and a dozen roses. So we did that for him. He texted me later that night to tell me he had a future Mrs.
Today we when to celebrate this awesome engagement. I am really happy for them. We went to a hibashi restaurant. It was delicious. It was the first time we went to it and we enjoyed everything. The waiters were really nice, the chef hilarious and he interacted with us and even with my daughter. If you had been to a Hibashi restaurant before you know that the chef comes ad cooks in front of you. The do tricks and even make a volcano with onions. He was so nice to Ketzia. He didn't want to scare her with the fire so he started little so she could see what it was and not be freak out.
But anyways. My husband and I were matching. We were both wearing red and black and he look very handsome like always hehehe. Here are some pictures of my outfit. I hope you like it.
Top: Walmart. I bought it a couple of years ago for $3
Skirt: I bought this like 8 years ago and I got it at a thrift store for $1.50
Belt:Bare Feet Shoes $4
Shoes: Bakers $20

Here is a piture of my makeup. and sorry I was tired cuz of the gym plus I had a couple of Kenji Fushion's. OMG such a yummy drink.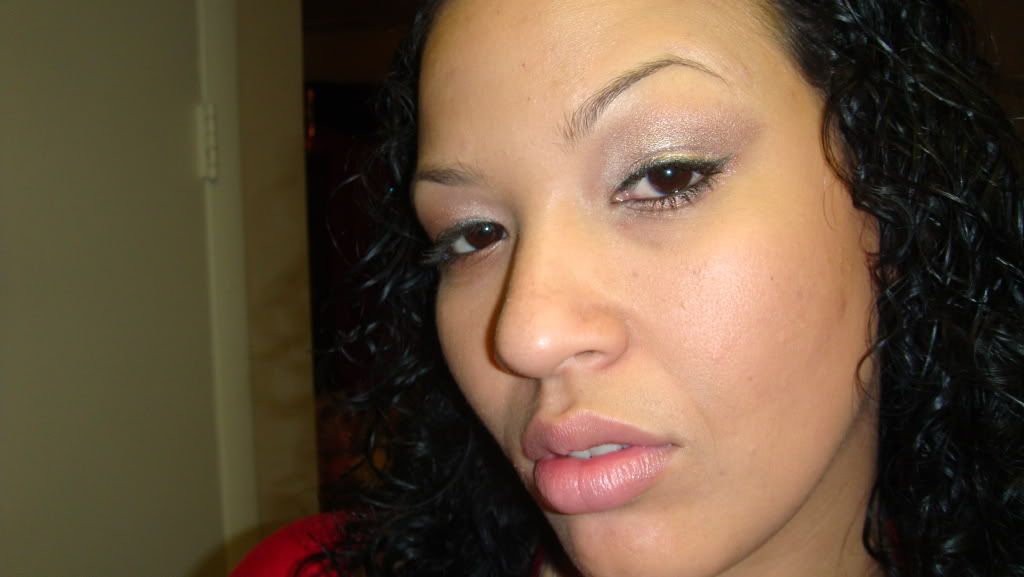 Products I used:
Eyes:
Urban Decay Primer Potion
NYX Base: Skintone
Urban Decay:Naked palette.
Sin(lid)
Sidecar(crease)
Naked (transition)
Toasted(deep crease)
Hustle(deepnd the crease)
Virgin(highlight)
Physician's Formula Gel Liner: Black
Urban Decay 24/7 liner: Zero
Face:
Smashbox primer
Maybelline Dream Smooth Mousse
Hard Candy Concealer
Maybelline Dream Matte Powder
Wet and Wild Blush: Mellow Wine
Wet and Wild Bronzer: Goddess Deene
Lips:
MAC Lip Liner: Stripdown
MAC Lip Stick: Angel
Nars Lip Gloss: Turkish Delight
Here are some pictures of my Handsome and our daughter.
We had an awesome night. Congratulations to Kurt and Naty! Los quiero Mucho.
Anyways I hope you like this post.
Besos<3
Runnie