So this look I did on Sunday. I was going to go buy some stuff at the store but was in the mood to fix myself a little bit. I haven't been in the mood for doing much but Sunday was a good day. So I have an addiction with purple lips. Yes you read right purple lips. My friend
Dora
has been making this addiction grow. She is the one that always sends me inspirational photos of make up looks for me to recreate. This fall the purple lips are everywhere you look. In the fashion shoes, magazines, you tube just everywhere. This is only getting my curiosity grown bigger. So i finally decided to try it, and I have to say I absolutely adore it. (Plus my husband thinks its very exotic and sexy) So I finally hot the guts to try it on. My eyes were a little irritated so I couldn't wear my contacts so that why you see me in this pictures with my glasses. But I gotta admit that my husband was right when he said i look like a sexy librarian. This is the end result!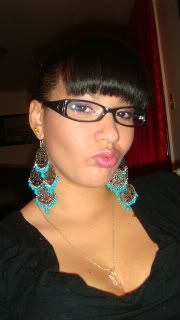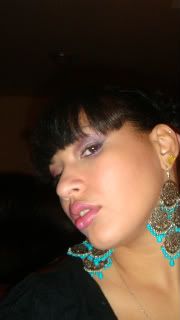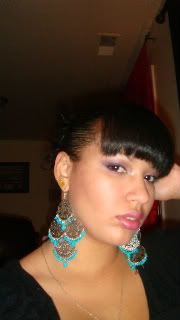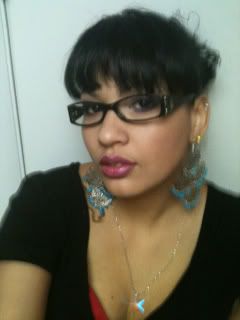 Urban Decay Primer Potion
Elf cream shadow-Butter Pecan Duo (used the golden color as a color base)
Urban Decay: Virgin (as a highlight on the arch of my brow and inner corner of the eye)
Urban Decay-Sin( all over the lid)
NYX purple smokey palette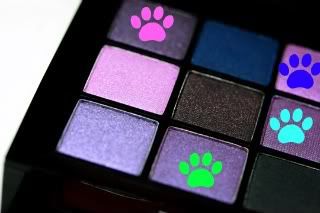 Colors used in this palette....
Blue Paw Print:middle of the lid
Aqua Paw Print: outer corner of the lid
Green Paw Print: crease
Pink Paw Print: gave depth to the crease
Physician's Formula Gel liners for green eyes- Black
Falsies Mascara
Dream smooth mousse Foundation- 240 Natural Beige
Dream Mousse Concealer- Medium 0- 2.5
Elf HD powder
Elf Bronzer Duo
Highligher: Urban Decay- Sin
EOS-Summer Fruit
NYX lip liner- 834 prune
Mac Lipstick- up the amp
Mac dazzleglass-Funtabulous
I hope you guys like this post. I'm going to try to get a post with photos of the Holiday looks and outfit ideas. I promise I'm going to be working on getting it together this week and have it up before Christmas day or Noche Buena (24th of December).
Besos
♥
Runnie