Well 2 nights ago I was really bored and i decided to go through my makeup and organize it a little bit. While in the progress of organizing it I decided to do a make up look which ended up just being the eyes cuz I didnt wanna do my whole make up face but i took some pictures i hope you guys like them.
Products I used:
NYX single eyeshadows:
ES 15 Rust outer corner and ES54 Cherry in the crease.
L.A. Colors eyeshadows:
BME488 White as a highlight and BME490 Gold in the inner tear duct.
Hip:
910 Charged is an eyeshadow duo and from here I only used the gold color as an all over lid color.
For the bottom Lash I used a dark Purple from the Manly 120 color palette
For eyeliner I used for the upper lash HIP gel liner in black and for the water line I used a NYX jumbo pencil in the color black bean.
For my lashes i used 2 mascaras. I used fist Maybelline Volum' Express Falsies and then I used Maybelline New York Colossal Diamond mascara.
I leave you wit some picures of the look and I hope you guys like it as much as I enjoyed making it.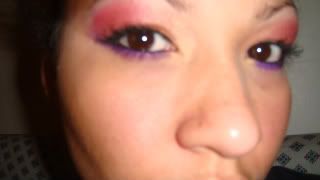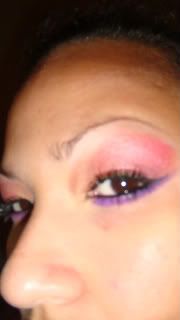 Besos,
Runnie