This post was suppose to be up on Sunday I know I been slacking a bit but I have way to much in my plate. I love down my blog but I been a sick for the past 3 weeks and I'm trying to deal with it. But anyways enough about that.
I did this look Saturday night. I was so bored that I decided to go into my Diva Room and play with make up. This is what I came up with. I saw a look done by
MissChievous
on You Tube and I liked it. So i did my own version of it. I used different products than she did. I love the way it looks so here are some pictures and the list of products of what I used. Hope you guys like it.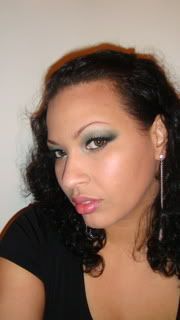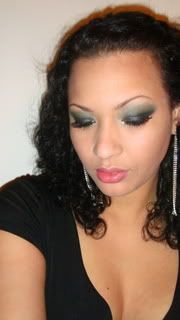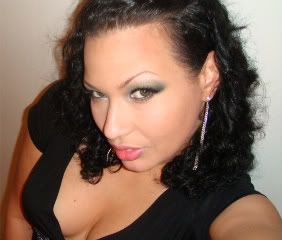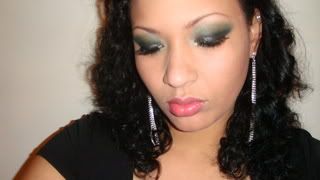 Urban Decay Primer Potion
NYX Jumbo Eye Pencil: Black Bean
MAC Pigment: Dark Sou l(lid)
120 Palette: Dark Green (crease)
Urban Decay: Buck (Transition Color)
Urban Decay: Virgin (as a highlight on the arch of my brow and inner corner of the eye)
Physician's Formula Gel liners for green eyes- Black Falsies Mascara
Dream smooth mousse Foundation- 240 Natural Beige
Hard Candy Glamuflage Concealer: Tan
Elf HD Powder
Bronzer: Wet n Wild: 742A Goddess Deesse
Blush: Nars Orgasm
Highlighter: Hard Candy Glow all The Way -319 Doll face
Eos-Pomegranate Raspberry
Nyx Lip Liner: 831 Mauve
Nyx Lipgloss-
Smokey Look
Before I forget I finally did my eyebrows. Like i finally got the courage to fill them in, as you can see in the pictures. This is because I have found the perfect match for my eyebrows. My husband had bought me the ELF Eyebrow Kit back in the summer and I tried it a couple of times and fail miserably to work with it. The was its just too dark. So I was just using the powder by it self but my hairs would get all crazy and I hate it. My last trip to Ulta with my friend Christie we were looking in the NYX section and we found The NYX Shaper, and she got it for me as a present. I brought it home and tried it with the Elf eyebrow powder and its awesome.
The shaper its a wax jumbo pencil. Its clear so it will match all type of skin and hair color. So I just love the results it gave me, so this is a little rave about it!
Besos
Runnie