So I went out to get the mail and froze my booty. So I decided to make some hot chocolate. so here I leave you the recipe because I haven't had hot chocolate like this ever. Is way too Yummy!
2cups 2% Milk
Hershey's Chocolate Syrup
2 Table Spoons of Sugar
Ground Cinnamon
Ground Nutmeg
Extract of Vanilla.
Warm the milk. Add the chocolate syrup and mix well. Then add the sugar, cinnamon, nutmeg and vanilla.mix well. let it simmer in low for about a min and serve hot. Yo can add marshmallows (I just didn't have any this time)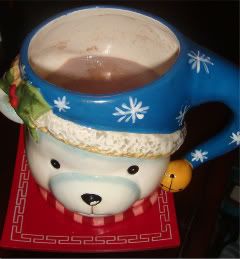 Warm Besos
♥
Runnie